23rd September 2021
Tags: EV Charging Points
How can you trust your new EV charge point installation?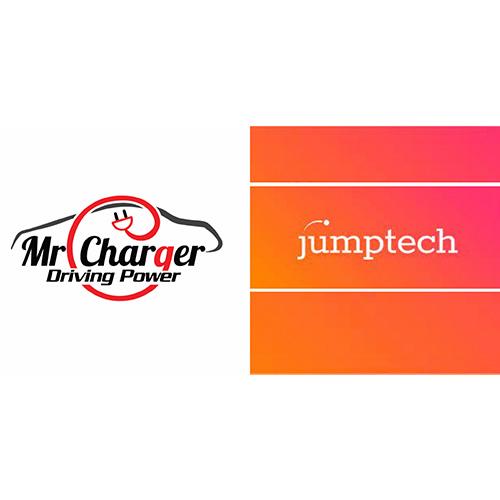 In the new world of Electric Vehicles, how do you find a reputable company to safely install the right charge point for you? Mr Charger's partnership with Jumptech will give you peace of mind.
When buying a new electric vehicle for yourself, or a number of vehicles for your company, your next consideration  is finding the right charge point and an installer who you trust to install it safely.
As more of us look for greener energy solutions, Mr Charger, one of the UK's largest and most trusted EV charge point installers, understands the complexities around making the switch. This is precisely why they wanted to make their customers' experience a positive and reliable one. "EV Charging is still a new industry, so it's easy for people to be confused about what they need for their new EV or fleet of EVs," explains Chris Bentman, Mr Charger's UK & Ireland Development Manager.
"At Mr Charger, we knew if we could simplify our installation process, one which was open to review at all stages, we'd be offering a better customer experience. Having worked with commercial and residential customers for a number of years, we knew what they appreciated, and where we could make improvements. When we were introduced to  software company, Jumptech in 2019, we discovered the perfect solution for what we wanted to achieve."
Jumptech helps installers, like Mr Charger, streamline the installation process. Similar to many early adopters of electric driving, Jumptech founder, Phil Nunn, had a negative charger installation experience which he found disjointed and time consuming. Using intelligent software, he realised that he could make the customer journey pain-free, and bring peace of mind, which is how Jumptech was created. "The EV market is growing rapidly, but still in its early stages," says Tom Griffin, Jumptech's COO, "Customers are still learning about EVs and even more so when it comes to installing an EV charge point. Our software is designed to help them, with a simple and reliable approach to the installation."
What the Mr Charger Jumptech partnership means for you
The installation process is fully accountable at every stage, and trusted: By our customers; by our franchise network of installers, and by the manufacturers. Meaning you benefit from having the peace of mind your charger is safe to use, and fully compliant.
What you can expect, as a Mr Charger customer
After an initial conversation, we'll text you a link to a five-ten minute survey. This enables us to carry out a remote assessment of where the install is to take place

We will review the information you've provided, before speaking to you about the right charge point, and installation quote

Once agreed, the installation date is then booked through the app, which is used by an engineer to:

communicate with you about your installation, including when they're on their way

view all the information you've provided, whilst onsite

The engineer will then take photos of the install through the app

the photos are used by us to apply for the Government Grant

they also allow manufacturers to check that their product has been installed safely

Relevant certificates and documentation will then be uploaded for you to view

The engineer will also send reminders about, and book in for, your annual charger service.
Customers are already benefiting from a better installation process, and peace of mind. "Because the process is so open," explains Chris, "as every installation can be checked at any point, either by us, or by the manufacturer, we can ensure the quality of our installations. This is definitely a crucial step for us, as an installer, and by working in collaboration with Jumptech it's made it easier for us to achieve our goal with constant development and innovation."
Contact us today for trusted advice about which charge point is right for you.