13th June 2021
Tags: Own a Mr Charger business
I felt like I was stuck in a rut, and needed a way out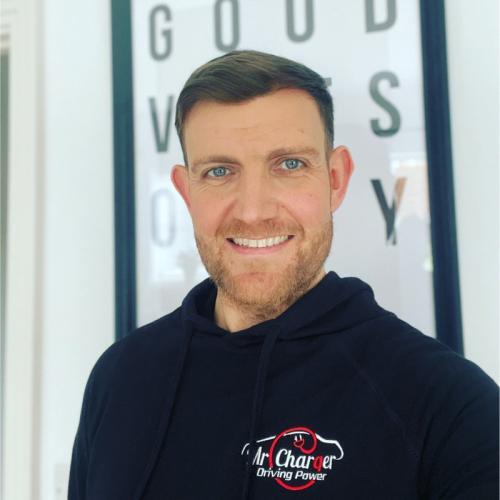 Matt Riddle was an experienced electrician, running a successful business. Feeling like his heart wasn't in it anymore, he started looking for a new challenge. This is when he discovered Mr Charger.
When you're a self-employed electrician, you're trying to balance all aspects of the business, as well as complete jobs to customers' expectations. Maybe you, like Matt Riddle, have worked as an electrician for the whole of your career, and worked long hours to provide your customers a quality service, but you've lost the spark the job once brought you.
Matt had worked in the trade all his life, having taken-up an apprenticeship after finishing school. He'd been employed by several different companies, before going into business for himself, in 2016. In many ways, Matt achieved what most of us only dream about: being the boss.
However, for many successful electricians, like Matt, there comes a time when spending long hours on the same old domestic and commercial contracts, no longer cuts it. "I needed something new to revive me," Matt says. "I'd become so frustrated, I actually considered leaving the industry altogether. I just wasn't as passionate about what I was doing, anymore, and had fallen out of love with doing general, domestic electrical work."
If you can identify with where Matt was at, it might interest you to know Mr Charger offers a proven business opportunity. Specifically aimed at supporting skilled electricians, Mr Charger enables you to jump into an exciting new sector: electric vehicle charging and energy storage solutions. Our proven business model gives you access to supplier-approved training, a structured methodology for business management and growth, as well as the ongoing support to help you achieve your professional goals.
But maybe, like Matt, you aren't sure what franchising can do for you. "I'd never considered franchising before," he says. "But as soon as I heard about it, and what Mr Charger offered me, I knew it was perfect! Perfect for me and, I would say, perfect for anyone looking for new direction. It almost feels a bit like cheating! You've gain access to a business model which is already in place: There's a brand, there's logos, there's infrastructure – everything you need to start a business is already there. Your opportunity is, essentially, ready to go!"
Electric vehicle charging, is not only making a significant contribution to the issues of climate change, it's also a hugely expanding industry, which is poised for significant growth over the next few years.  As Matt says, "Whilst many companies are struggling during the pandemic, I think the EV industry is likely to benefit from it. People are changing how they travel around, looking at their options, so electric vehicles will become even more popular over the next few years. With the pressure to become greener, the industry has huge potential. I think the next ten years will be massive."
As his business in Bracknell grows, Matt hopes to grow his team of installers so he can step back from doing the actual installations. With this potential for moving into a more managerial role, franchisees can focus their energy on expanding their customer base. "It's exactly what I needed as I have a young family and want to spend more time with them," Matt says. "For me, it was a real no-brainer. I could either start from scratch and be a competitor to Mr Charger and always be a step behind, or I could come onboard and see if we could grow it together. It was an easy decision."
Are you ready to overcome the frustrations of the daily grind and take your career in an exciting and lucrative new direction? Get in touch today.