10th June 2021
Tags: EV Charging Points
When was your EV Charging Point last checked?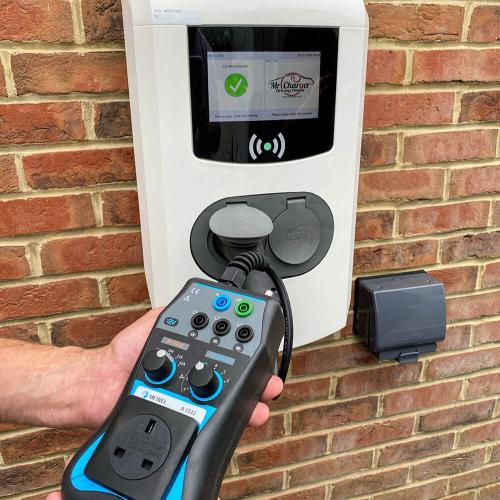 As you'd expect, regularly servicing your EV charging points is important for optimum efficiency. Mr Charger offers maintenance contracts, designed to keep you and your customers enjoying the long-term benefits of a cleaner drive.
When was the last time your EV charging point was tested? Installing EV charging points around your premises, is only one aspect of keeping Britain moving forward. It's important to have them tested on a regular basis, as with any electrical equipment. You'd expect PAT testing to be done on all your appliances inside the building. So what about those outside?
As an approved installer, Mr Charger can also carry out annual checks on all EV brands in the UK – even if your charger was installed by someone else.
Why you need a maintenance contract
To keep your charger in optimum condition, most manufacturers recommend you annually service it. However, many of our clients prefer to invest in a maintenance contract, for peace of mind.
To keep your charger in full working order. We were recently contacted by someone who'd installed EV chargers in 2014, but had never had them checked. It hadn't occurred to them this was needed, once the installation had been completed on their company premises.

To repair them after accidental damage. We were also recently called out to a public charger which had been run over by a member of the public. They'd been reversing into a parking space, and not seen the pedestal-mounted charger behind them, hitting it, and flattening the mount.

To check them, after heavy public usage. We are often called out to check, fix or update those chargers in public places: Shopping centres, car parks and, more recently, a garden centre. Just by the nature of being in constant use, EV chargers should be regularly inspected.
For this reason, many of our clients prefer us to inspect their equipment, twice a year.
What is included in your Mr Charger maintenance contract?
We will carry out formal electrical testing, of your existing installation:
all your terminals would be inspected, from the fuse board, to the charger itself

any software on your charger, will be tested to make sure it's fully operational
Once we have carried out our inspection of your equipment, we will evaluate the test results, and present them to you in an easy to understand digitised condition report.
Our customers tell us the detail of our reports, gives them confidence knowing their charger is both risk-assessment compliant, and in full operational order. You too can gain peace of mind, knowing your charging points are safe for members of the public to use.
To find out how we can support you, please contact us directly. Our clients have differing needs, so we can tailor our services bespoke to you.