23rd March 2022
Tags: Own a Mr Charger business
Make your leadership qualities work for you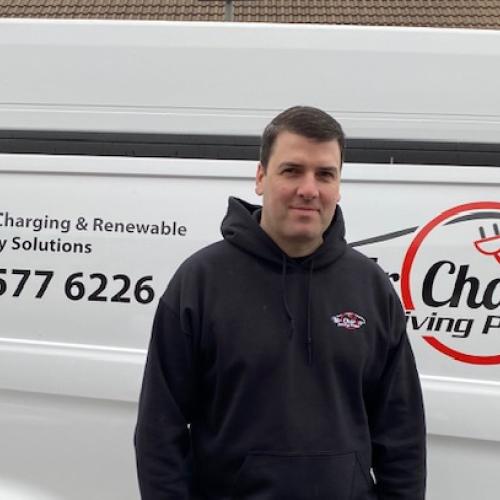 When you're a leader, you have not just your team, but your customers' best interests at heart. For Matt Houchard, Mr Charger is a brand which already offers customers a positive experience. One he can align with, as he starts his new Mr Charger business, in Chester and The Wirral.
Have you been at the forefront of team leadership? If so, then you might be the right person to take on the running of your own business. Before you start breaking out into a sweat, about the idea of starting a new business for yourself, we're here to tell you about franchising. The supported route into business ownership, which combines your skills with our knowledge and proven business model.
For Matt Houchard, and one of his closest friends, the idea of starting a business together, was something which was really appealing. They'd spent time thinking about the kind of business they wanted to grow, one which had longevity about it, and the prospects to scale-up. And, because they'd both enjoyed leading happy teams, they wanted to transfer this into something for themselves. "We've both been involved in retail for most of our careers, and were ready for a change – one which would utilise our skills and experiences, but take us a new direction. Because we've held leadership roles within corporate brands, we knew this gave us a solid of foundation to transfer what we know into managing our own business."
Leading the way
Knowing people who were already involved in franchising, allowed Matt to see the benefit of using this as the best route to start a business. In researching options available to them, Matt came across Mr Charger. "The Mr Charger franchise model is one we could see was strong; and they are leading the way for EV driving to become reality, across the UK," Matt explains. "But, there were other factors in the final decision to invest with them. When you dig into the EV market, and the Government's focus on the UK being fully electric by 2030, there's much scope for us to grow. Plus, the reputation of the brand, and the positive reviews from customer's matched our work-ethic to make sure customers feel valued."
Leading by example
Although, Matt is not an electrical engineer, he wants to deliver the same positive work experience for his team, as he expects of them to deliver to customers. So, he's taking advantage of Mr Charger's expertise, by completing the same EV installation course engineers do. "Having shared knowledge with them, is important to me. I think good leaders understand the whole business – not just how things are run at the top. The culture we create is so important for how we're planning to build our business. If I have engineers approaching me with a problem, I want to help them problem-solve. If I want our engineers to understand the value of the customer experience, I need to demonstrate their value to them. If I want them to enjoy what they do, we also need to see them as people, and empower them to enjoy a healthy work-life balance."
Leading the market
Becoming the market leader for EV charge point installations around Chester and The Wirral, is another area in which Matt and his team want to lead the way. "We're already seeing incredibly high demand for EV charge points –  even though we only opened in January! So, although we already have two engineers who are already fully-versed in EV installations, we're already looking at expanding our team of engineers. We want to be there to meet our customers' expectations, and offer flexibility around their needs when carrying out an installation or maintenance of our charge points. When we treat our customers as humans, word spreads, and demand rockets."
Ready to take the lead?
If you want to take your leadership qualities and make them work for you, instead of someone else, then let's have a chat about how Mr Charger can help. Your success built on our franchise model, could be a leadership powerhouse in your area!