16th December 2021
Tags: EV Charging Points
Reliable charge point installations to suit you and your customers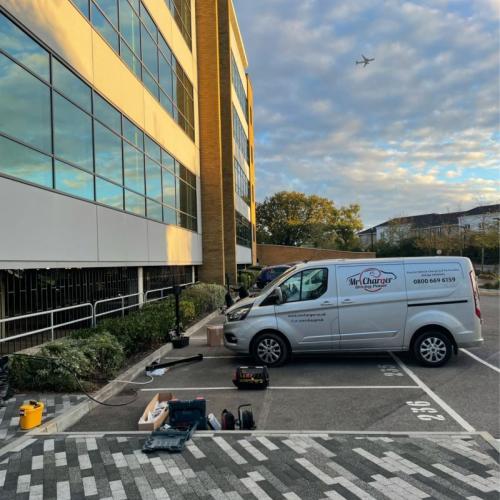 When you're looking for a charge point installation for your site, you can trust Mr Charger, whether you want one, or multiple charge points.
There's a revolution for greener driving, going on. Many companies are looking for the means to be able to show their commitment to the planet, with sustainable policies. Maybe you're someone who is overseeing such an initiative, and you want to provide electric vehicle (EV) charge points for your staff, your fleet, or even your customers.
At the forefront of change, Mr Charger is a network of installers committed to making the process for your EV strategy, easy and pain-free. Our installation process has been designed to enable you to manage your install, with the guidance of your OZEV-approved Mr Charger technician. We will work with you to identify the right charger for your requirements, the best location on site, and will manage the final install, keeping you posted through the process, so you're never left wondering what's going on.
To give you some piece of mind, here are three commercial installs recently carried out by Mr Charger, across the UK:
12x commercial charge points in Leeds: Managed by Nick Creer, Mr Charger Lancashire
Our client wanted 12 EO charge points installed at two different office sites, in Leeds. It was quite an involved job, as it required groundwork to be carried out, too. But, we have Alan Miles in the Mr Charger network, who also runs a civil groundworks firm. He supported us with the groundwork, ensuring it met the standards we work to, as a Mr Charger franchise owner himself. Having this sorted made the rest of the installation smooth.
15x charge points on an office building: Managed by Matt Riddle, Mr Charger Berkshire
The client owns a large corporate building, with offices he rents out. He was looking for an EV solution for his building, and wanted 15 Easee charge points. A job of this size obviously requires accurate planning, to ensure everything goes smoothly for the install, which it did. We also brought in extra staff to help with the install, and ended-up completing in less time than anticipated: six days, instead of two weeks.
London's Walkie Talkie Building: Managed by George Hancock, Mr Charger, Guildford
The client required three EV boxes in a motorcycle bay, ready for electric motorbikes. It was a straight-forward install and we were able to work closely to the client's requirements. We completed the job within a day, as we were able to link our charger cable management to some existing cable management already at the site. This system is one Mr Charger provides, so clients can manage their own chargers, and billing systems for their customers.
If you're considering commercial EV solutions, why not contact Mr Charger and see how we can help you find the right one. Call 0800 669 6159 or email install@mrcharger.co.uk