2nd December 2021
Tags: Own a Mr Charger business
Do you have the vision to step into a future you control?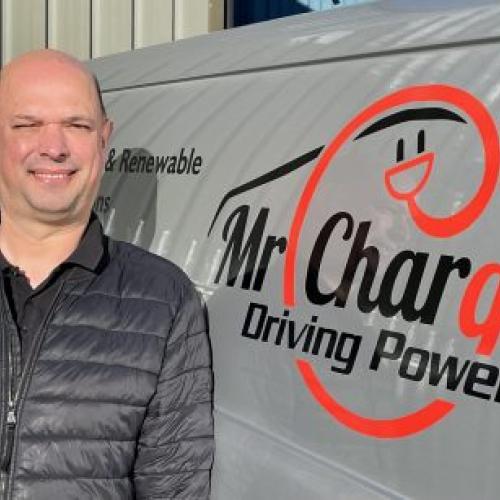 What makes someone who spent almost three decades in banking, before branching out to become a multi-business owner, break into the EV market with a new Mr Charger franchise? Vision!
If you've ever thought about a career change, but think it might be too late for you, maybe the story of our newest Mr Charger franchisee will inspire you. Because, for Alan Miles, owner of Mr Charger East Anglia, having worked in banking for around 29 years, stepping into business ownership has only provided more opportunities for him.
Originally, he became the finance director for a groundwork company, which expanded into a construction training company. But, then Alan, and his business partner, John, diversified into new, innovative industries like a seafood smokehouse. And now, this latest venture sees him moving into the EV market, as he invests in a Mr Charger franchise. "Last year, with the pandemic affecting a couple of our businesses, I wanted a new opportunity. Something I was personally interested in, but which operated within a growing industry," Alan explains. "I'm a bit of a petrolhead, and passionate about cars, so it's easy to see the future is electric: EV is going to be a massive growth area."
However, after almost three decades in banking, and having started and run a number of successful business, Alan didn't want to start another new venture from scratch – something which other wannabe entrepreneurs may identify with. "With everything else going on, as a result of covid, I really didn't want the hassle and drama of everything which comes with starting a new business. I've been there, and done it. I was doing some research into what opportunities there are for me, and came across the Mr Charger franchise."
Mr Charger is a franchise specialising in the installation and maintenance of EV charge points, for both commercial and residential customers. "I'd not really considered franchising, before, but after speaking to Richard at the Head Office, I knew I could work with them. I like the fact we're not a large corporation, but a company who are expanding through the franchise model. The way Mr Charger works is very similar to how I operate in my other businesses, so it felt like a good match."
Driving toward the future
Having the vision to invest in the EV industry means Alan – like others in the Mr Charger network – is now in a position to offer a solution within his territory. "Within eight years, more of us will be driving an electric vehicle," Alan says. "Car manufacturers will focus more of their attention on the EV market, and fuel-run vehicles will be discontinued. We're going to need easier access to charging points, both at home, and away from it. So, the EV industry is only set to grow. Mr Charger has taken the guess-work out of starting a business within this industry, and I benefit from being able to follow a model for business, which is already working."
When it comes to multiple revenue streams, Mr Charger franchisees have the option of targeting two types of customers: residential, and commercial. "I can see the benefit of reaching both audiences through my franchise. But, I'm not an installer! So, I've already hired a couple of installers who have already been through the Mr Charger installation training programme, and we're ready to go. I'm looking forward to using my sales experience, in banking, to work for myself. I've already been out to a couple of dealerships, explaining what we offer, and how our software can be seen as a commercial investment."
Hold the vision, trust the process
So, when you think you may not be at the right stage of your career for starting a business, it might be better to change your mindset to view how you can use your skills and experience to better, personal use. Franchising, with Mr Charger is giving people like you future-focus and a less risky means to run your own business, "Being part of a franchise, is like having an additional business partner" Alan concludes. "One who knows what I need to be a success, and can be a sounding board for the challenges I face: The journey they've personally been on gives me confidence to know I can grow my Mr Charger business. I couldn't ask for anything better."
To find out what it would take to start your own Mr Charger franchise, take your first step by contacting us today to arrange a conversation with Richard.