11th August 2021
Tags: Own a Mr Charger business
I really wanted to get off the tools one day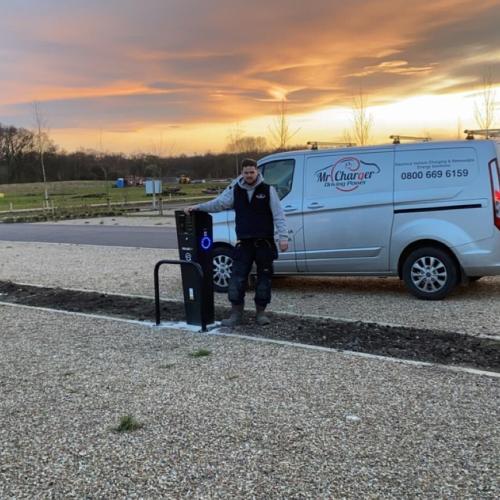 "I really wanted to get off the tools one day and I realised Mr Charger was my chance."
Many electricians feel frustrated with long hours, working the same old jobs, but making a change or starting your own business is not easy. For Nick Creer, taking on the Mr Charger franchise for Preston was exactly the opportunity he was looking for.
Whilst you do not need to be an electrician to benefit from a Mr Charger franchise, many of our partners have come from an electrical background. Like, Mr Charger Preston owner, Nick Creer. He initially joined his father in the family electrical contracting business, working in partnership with him for over 10 years. However, Nick could see there was the potential to achieve more in the business, and they could grow in a new direction.
Nick quickly saw there was potential within the EV market, with the growing popularity for electric cars, and he began working on small electric car charger projects. As he did, he met Richard from Mr Charger, who explained there was a market he could tap into, with his own Mr Charger franchise. "I instantly realised this was a good opportunity, so just went for it!" says Nick. "I've always known I'll take over my dad's business fully, one day, but I also wanted something new, which was my own, to sink my teeth into. Starting a new business is always a risk, but Mr Charger has hit the ground running, right at the start of the EV boom: it's an ideal investment."
Mr Charger provides, not only a supported route into an exciting new market, but also all the approved training, tools, manufacturer relationships and expertise needed to take full advantage of this major growth industry. With strong relationships already established with a number of large customers, from car manufacturers and construction companies, to local councils and government projects, Mr Charger has a proven model designed to kick-start your new business in the right direction.
With our comprehensive training, and commitment to providing a high-level of ongoing support, Mr Charger franchisees take control of their future, by using our highly efficient systems to enjoy a quick start in their new venture. As you scale your business to meet the increasing market demand, you can provide local electricians and apprentices, meaning you  are in a position to come off the tools and make your move into management. "The fact you have the franchisors, Richard and Martin behind you, offering you the support and guidance, helping me to start, and to find my customers, was a real draw for me," Nick says. "Within Mr Charger, we're on the same side – and we're all here to support each other."
Whether you're looking for a forward-thinking new investment, or just for a way to take more of a leadership role in your existing business, Mr Charger is a franchise opportunity like no other. Get in touch today to find out more about how we can work together.